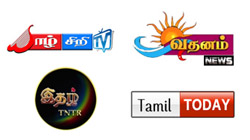 In the crowed free-to-view live Tamil TV channels space online and through IPTV, some new channels have launched and more are to come. Here is an overview of some of the channels that we are aware of:
Tamil Today TV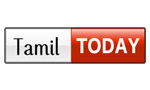 A channel testing from London, UK. The channel currently telecasts music videos, interviews and news based programmes. The channel describes itself as follows:
"Bursting with extraordinary, entertaining and ground-breaking stories and characters. A channel inspired by yesterday, lived out today, shaping tomorrow. Tamil Today is alive.
Tamil Today TV is an entertainment and news channel owned by leading business group in the UK.
Tamil Today TV programming primarily consists of family dramas, Cookery shows, News and Movies. Tamil Today TV, a Tamil Language entertainment and news channel, brings to light the vibrant attitude of the young generation through its interesting stories.
Launched in January 2020, Tamil Today TV is the group's first venture into broadcast media business bringing a global outlook to Tamil television. High quality programming of the Tamil Today TV channel enlightens, inspires and entertains all communities of Sri Lankans in UK, Europe and across the globe. Tamil Today TV reaches the grassroots and the urban audiences with the real Tamil Culture. Tamil Today TV programming primarily consists of family dramas, Cookery shows, News and Movies."

You can watch the channel live from here: www.tamiltoday.tv

Wathanam News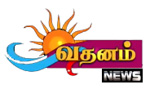 An upcoming news channel from the Swiss based Wathanam TV. The channel is currently testing with music videos and was supposed to start on June 1st. But due to some technical issues the launch has been postponed. The group is already running an entertainment channel called Wathanam TV, which shows some live events, music, comedy, news and movies. An app to watch the channel has been launched today, and it is expected that the group will launch a music channel too in the near future.

You can watch the live stream from here: http://wathanamtv.com/wathanam-music/
YarlSri TV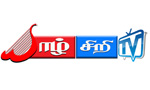 An upcoming general entertainment channel from Sri Lanka. Currently testing on-off through their website and facebook page. The company has also started a live radio station called YarlSri FM.

You can watch the live stream when it works on www.yarlsri.tv



Upcoming Tamil TV channels in the planning phase: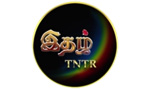 Ithazh TNTR (Tamil Network TV & Radio) is operating from France and is run by a former TTN Tamil TV presenter, Anusuja Anantharooban. Currently they are doing some radio/TV-programmes through their Facebook page, and the plan is to launch a 24H Tamil radio and TV-station, which shall promote local talents from Europe. The TV channel will also telecast movies etc. and it is expected the radio- and TV channel are going to launch within some months.

A website is under the way: www.ithazhtntr.com, but you can listen/watch their shows on https://www.facebook.com/ithazh.tntr.5


Vettri TV
Vettri TV will be a project by Vettri Vaanoli, which is an online radio station from London, UK. Some former RJs from IBC Tamil and Deepam TV are currently working at Vettri Vaanoli and have much experience in doing radio- and TV-programmes. There is currently no date for the launch of this channel. You can listen to Vettri Vaanoli live from www.vettrivaanoli.co.uk

TubeTamil TV
Work is going on for TubeTamil TV from Sri Lanka, which is already running a radio station from Jaffna, called TubeTamil FM. The launch date is unknown. Website is already registered; www.tubetamil.tv.


Keep an eye on MEDIA ASIA website for more details.

- MEDIA ASIA